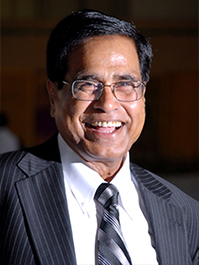 Dr.Nalla G. Palaniswami
Dr.Nalla G. Palaniswami is a Doctor, Educationalist and Philanthropist. He did MBBS and MD in Stanley Medical College, Madras and served as Lecturer and Assistant Professor of Medicine at Coimbatore Medical College in the year 1973 – 1975. He went to USA in the year 1975 for his higher studies and completed higher training in Internal Medicine at Cincinnati, Ohio and Wayne State University at Detroit, Michigan in the year 1975 – 1978. Did fellowship in Endocrinology and Metabolism at Wayne State University, Detroit, Michigan in the year 1983 – 1985. Between 1978 and 1983 worked as internist at St.Joseph Hospital, Mt.Clements, Michigan, U.S.A. 1985 – 1990 Staff, Hypertension, Obesity and Risk factor, department of Wayne State University at Detroit, Michigan. Conceived the idea of establishing a hospital comparable to American Hospital in India, He worked on the project of Kovai Medical Center and Hospital at Coimbatore in the year 1985 onwards. Joined along with N.R.I.'s from USA, UK, Australia, Middle East and people from India, he established KMCH and it started functioning from June 24, 1990. Since then KMCH is serving the community with dedication and commitment. Started with 200 beds and it has emerged as 1000 bedded multidisciplinary Super Specialty Hospital.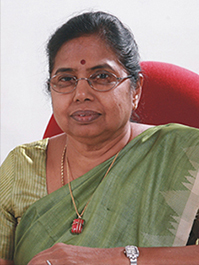 Dr.Thavamani D. Palaniswami
Dr. Thavamani D Palaniswami is a Paediatrician and Adolescence Care Specialist. She did her M.B.B.S at Kilpauk Medical College, Chennai and AB Paediatrics in USA. She has 14 years of long service in the major hospitals in United States of America. Her valuable work experience in the medical institutions of USA has empowered her skills in managing various medical and technical institutions.
After assuming the position of Managing Trustee of Dr.N.G.P. Research and Educational Trust (Formerly Kovai Medical Center Research and Educational Trust), she is sharing the responsibilities of the Chairman in carrying out objectives of the trust in establishing and running various educational institutions on par with the best in the western countries.
Her multi-dimensional approach makes the institutions excel in curricular and co-curricular aspects year by year. She believes that good education and discipline are the two inevitable factors in the development of the student's community.